PROFESSOR:
Marek A. Suchenek
, Ph.D.



Office hours for this course:
Mo, We 2:30 - 3:00 PM in

NSM A-131
(see
Contact
for more)
PREREQUISITES: CSC311, CSC331, and MAT321 with grade C or better.
(see
Contact
for more)
PREREQUISITES: CSC311, CSC331, and MAT321 with grade C or better.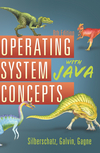 OBLIGATORY TEXTBOOK. The scope of the course is covered by: Silberschatz, Galvin,
Operating System Concepts
,
the latest edition - please consult the University Bookstore
, Addison-Wesley, chapters 1 - 18.
PROJECTS. Two projects will be assigned during semester. In order to earn credit they must be 100 percent individual work. They
will earn credit of 0 - 10 points each. The deadlines for submissions of these projects will be

March 20 and May 8.

No late projects will be accepted - no exceptions.


MIDTERM. One midterm (60 min) will cover the foregoing material. The midterm is scheduled on
Wed., Mar 27
. It will earn credit of 0 - 40 points.
FINAL COMPREHENSIVE EXAM (120 min.) will cover the material discussed in class and assigned as readings. The exam is scheduled on
Mon, May 13
. It will earn 0 - 50 points.
GRADING. The following elements contribute to the total score.
Homework not graded
Quizzes no credit
Projects 0 - 20 points
Midterm 0 - 30 points
Final 0 - 50 points
====== =======
Total 0 - 100 points
Course grade will be determined according to the following schedule.
0 - 45% yield F
46 - 50% yield D
51 - 55% yield D+
56 - 60% yield C-
61 - 65% yield C
66 - 70% yield C+
71 - 75% yield B-
76 - 80% yield B (minimum needed for graduate credit)
81 - 85% yield B+
86 - 90% yield A-
91 - 100% yield A
Other grades (e.g. incomplete) will be assigned in cases specified by the university regulations.
ASSIGNMENTS. Homework assignments will not be collected or graded. For the needs of course documentation, the midterm and the final will not be returned to the students. For the same reason, programming assignments will not be returned unless submitted in duplicate. Except for permitted use of procedures included in the handouts, each program is supposed to be a 100% individual work, in particular, no form of collaboration or help is allowed. They will be made available during the class following the test and during office hours for the remainder of the semester.
MAKE-UP POLICY. No make-ups will be given. Late programs will not be accepted. However, one quiz may be missed since the lowest quiz score will be dropped anyway.
ACADEMIC HONESTY. No form of plagiarism (copying) will be tolerated. Violations can result in anything from an F in the course to expulsion from the university.
Please, visit
http://www.csudh.edu/srr/faculty.htm
for a more thorough explanation of CSUDH Academic Integrity policy.
SCOPE. Students are responsible for material covered by lectures, assigned readings and exercises, and are assumed to preliminarily read appropriate parts of the textbook before the material is covered in class, according to the following syllabus.